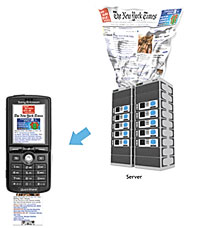 I love the idea behind open-source. Im not a nut - i dont believe the software is always better though. But I have been using Firefox since its inception - it is just miles better than the experience of IE. But now Opera has finally caught my eye.
It all started when I downloaded the Opera Mini browser onto my Nokia 6230. I was grwoing tired of the built in browser being slow and unreliable. Some pages wouldnt even open. Opera Mini is a must have. Every page renders fast and looks good to boot. Even on my phone's little 128x128 screen. Text has a sort of "cleartype" look and that alone makes pages easier to read. I especially love having Google and Wikipedia search boxes on the opening page. (Think how handy this could be in stupid arguments with supposed intellectuals). Use you phone and goto http://mini.opera.com
So then of course I had to try the new Opera 9 browser on my PC. So far I am very impressed. Its very fast (faster than Firefox in my experience) and the interface can be nicely altered using skins...
I think I might make the switch...
www.opera.com